Logitech Slim Folio iPad Keyboard Case(24.6 cm (9.7")
Logitech Slim Folio iPad Keyboard Case(24.6 cm (9.7")
TURN YOUR
 

iPad

 

INTO A LAPTOP WITH ONE CLICK
3 USE MODES
Slim Folio offers three unique modes to help you accomplish any task.

Type Mode: Just dock the keyboard upright and type away.

Sketch Mode: Collapse the iPad screen to take notes or draw with Logitech Crayon®.

Read Mode: Fold the keyboard back to read books, articles, and more.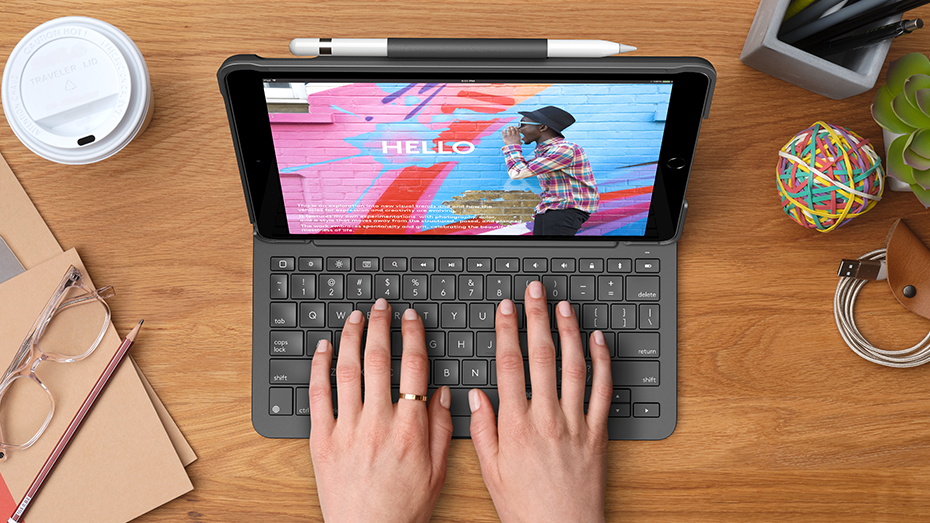 COMFORTABLE LAPTOP-LIKE TYPING
Enjoy hours of comfortable, flexible typing thanks to large, well-spaced keys stretched edge-to-edge so your hands won't feel crowded. Our premium keyboards are designed to deliver the perfect bounce every time you press a key for fast, accurate typing. With a full row of shortcut keys, you can perform your favorite iOS-specific actions and optimize your productivity.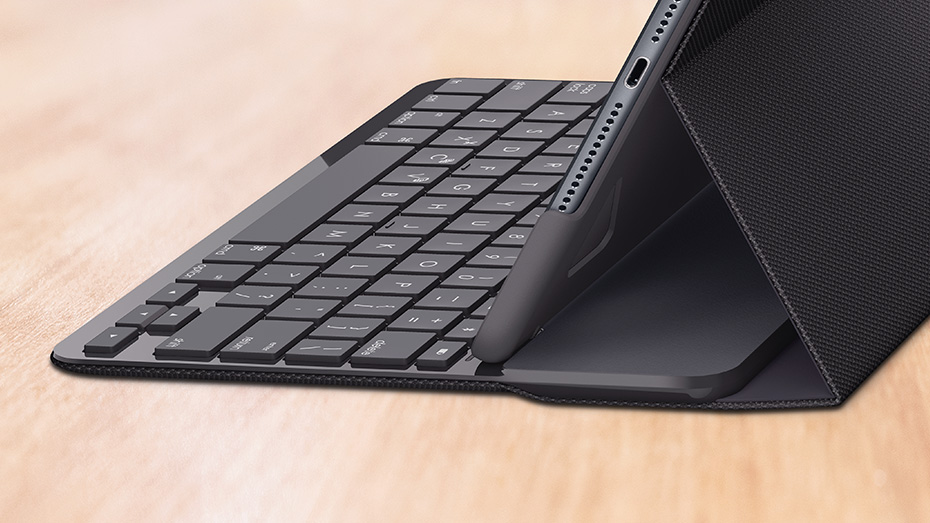 CONVENIENTLY INTEGRATED KEYBOARD
Slim Folio's keyboard is integrated into the case so it won't get lost and is always there when you're ready to type.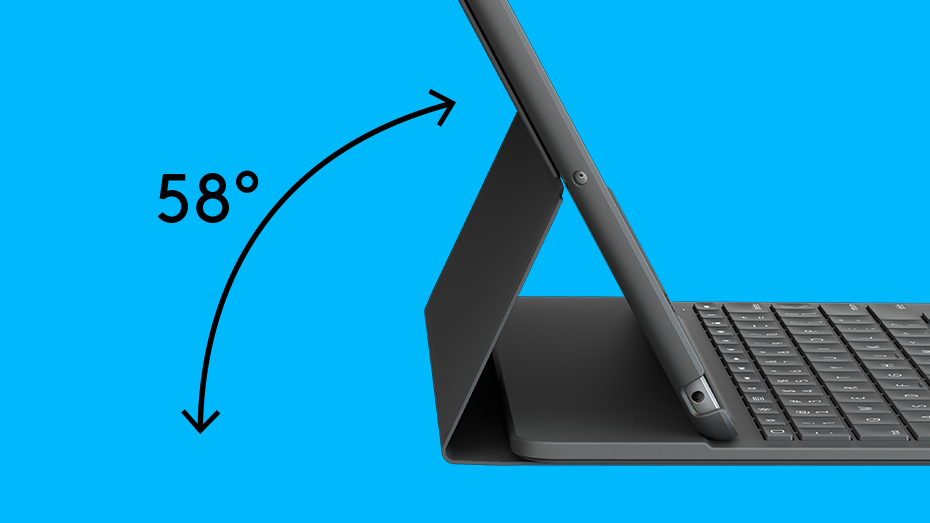 2 ANGLES FOR TYPING, VIEWING, AND SKETCHING
In Type Mode, Slim Folio holds your iPad at a 58° angle that's great for getting work done with the keyboard. Collapse the case and Slim Folio will hold your iPad at a comfortable 10° angle that's optimal for viewing your favorite shows, handwriting notes, drawing, and more.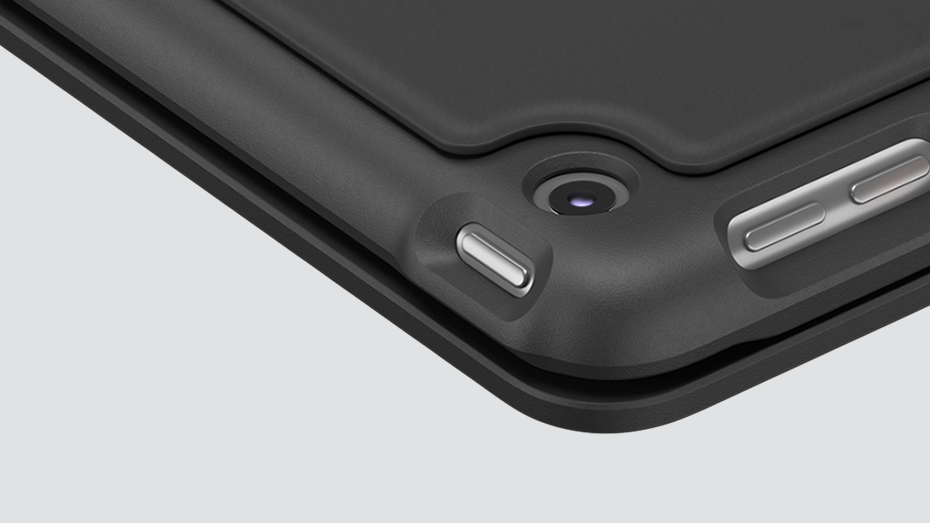 FRONT AND BACK PROTECTION
Slim Folio carefully envelopes your iPad for protection against bumps, scratches, and spills. On the inside, a lightweight frame and keyboard module provide structural integrity without weighing down your iPad.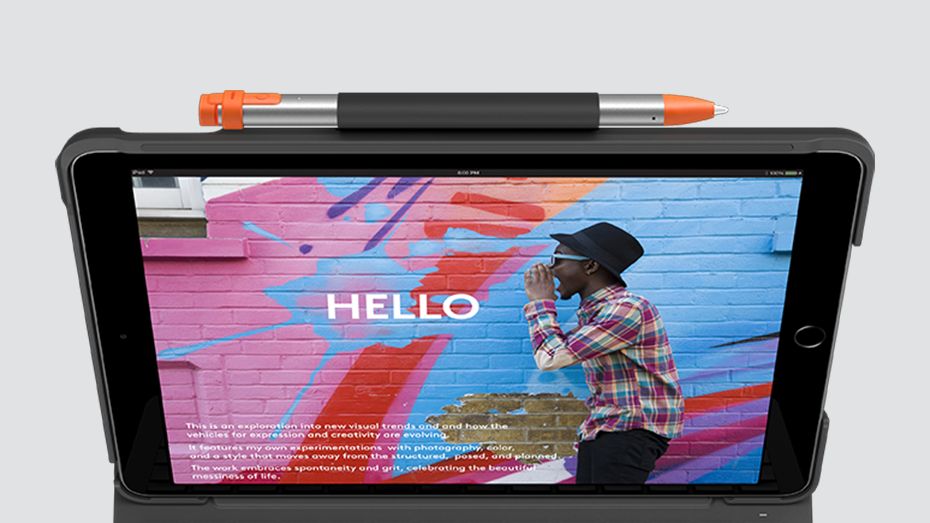 HOME FOR LOGITECH CRAYON AND OTHER DIGITAL PENCILS
Sketch, write, then store your Logitech Crayon or Apple Pencil (1st gen) where it won't get lost or in the way. The convenient holder will keep it firmly in place until you're ready to use it next.
Customer Reviews
I recommend this product
Super keyboard, good quality and lighting is very cute Thanks
I recommend this product
I'm testing it and I really like the touch of the keys, the only thing I can get my hands on is a little lift or legs that can be opened at the bottom of the keyboard. To say something, it's very comfortable and I like the feeling when used.
I recommend this product
Keyboard with a very good feel to the touch and very ergonomic. You have to get used to setting the keys so you can squeeze it to the fullest and make the most of it. The only catch I'm noticing when using it is that this one comes deformed or disassembled because typing one of the corners limp, every time you use it it it is going to jump, I'll have to find you some adesive to stop giving that annoying little jump every time you type. I don't know if it's been forced somehow by leaving him weight on that corner or it's manufacturing failure because the box except some detail in some corner has come in good shape. What I said, I recommend but it has to be done to him.